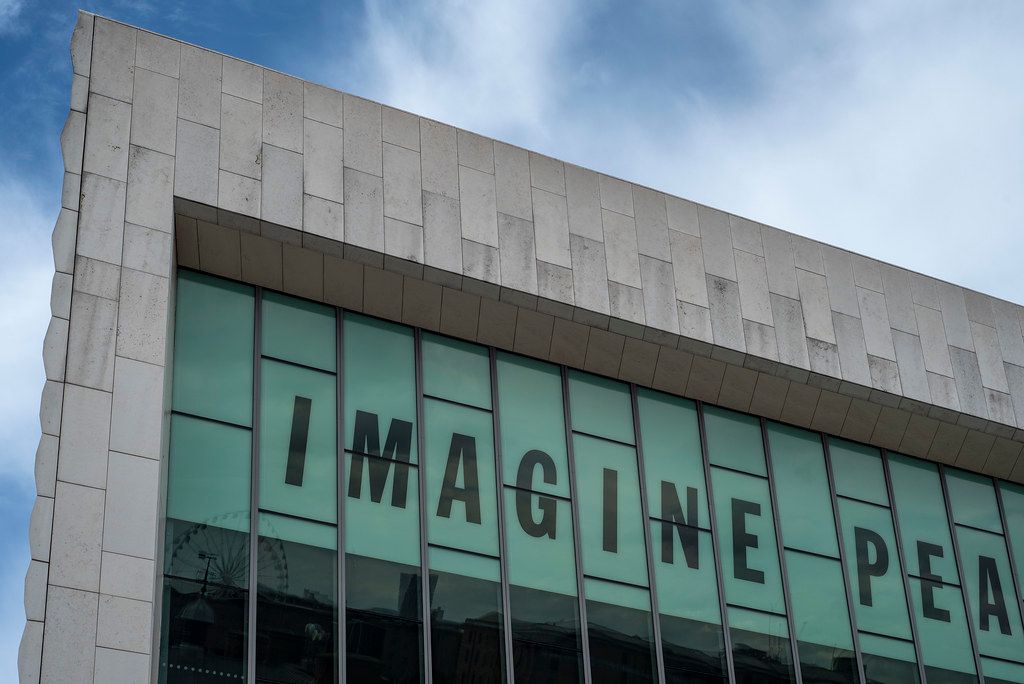 Fiona needed to go to Liverpool to claim her Irish citizenship as a descendent of the diaspora, via the application for a passport, something that three years ago was a vague abstract potentiality but which thanks to events has become a necessity if one were to maintain rights manifested in membership of the European Union. She found some cheap train tickets, as is her way, and given I had a free day suggested we make a day of it.
The passport stuff took about 10 minutes, including queuing, shortening the application process from six months to four weeks, giving us 5 hours before the return train. We narrowed our choices down to three landmarks and allotted an hour or so for each.
---
First to the Bluecoat which is showing Shezad Dawood's Leviathan films, a projected 10-part series of which five parts were on show here, plus one which needed a VR headset. The first part, Ben, was shown in it's own room. The other four were shown together in another room projected on large sheets. The VR piece was in a third room accompanied by neon-augmented canvases, presumably because VR headsets on a table look shit.
I really liked Ben, even more so when it looped back to the beginning and I saw it with all the context and cues intact. Video art in galleries really suffers from you randomly joining it some way through and not knowing how long until it starts again. I'd love there to be the option to restart the video, or a sensor that, when the room is empty, just stops the playback (which would save significant power), starting it only when a warm body enters. I digress, but this really affects how I experience the work, which is to say poorly. But it was good piece.
The other four pieces I can't say I enjoyed because they were projected too large and too close together for the small space. I needed to see them on a smaller screen. In fact I'd love to see the whole sequence on a normal television or monitor. It would really benefit from that level of intimacy. I lasted about 5 minutes before having to leave.
I didn't bother with the VR headset.
So, not a great experience all told. What work I was able to experience I liked and wanted to spend more time with, but the presentation, the insistence on BIG SCREEN PROJECTIONS, ruined it for me. I don't feel I've seen Shezad Dawood's Leviathan and find myself hoping the films make their way online at some point so I can.
But I'm glad they tried. Showing this scale of work in such a space is hard but the Bluecoat gave it a go and I thank them for that. I can also highly recommend the BLT sandwich from the cafe which was splendid.
---
On to the Museum of Liverpool, a building whose newness is indicated by its not being called the Liverpool Museum. We were there to see Double Fantasy, the Yoko Ono curated exhibition of her and John Lennon's work together. Andrew Rillstone wrote a lovely journal-style piece about visiting as a Beatles fan which I commend to you and which promoted me to put it on our shortlist, but I was really there for the Yoko stuff. I remember around 2000 or so discovering that she wasn't some weird woman who broke up the Beatles but was a major artist in her own right, something the mainstream culture neglects to mention, and this exhibition feels like an overdue correction of the record, ignoring everything Beatles and focussing on their collaborations in art and life. It tends towards the hagiographic at times, full of sacred relics, but that's excusable given this is a show in Liverpool about John Lennon. I really really liked the first third exploring how her art practice effectively saved him from himself and the world around him. The other two thirds were fine, accounting for lives lived in a weird period of history. The coda, after the assassination, is mildly devastating.
I would definitely recommend going to this if you're in Liverpool.
---
Finally to Tate Liverpool where I was drawn to the Keith Haring exhibition for the sole reason that it was one of those rare occasions when The Actual Work was on show in the UK, so it would be a shame not to. The £12.50 ticket price put Fiona off so I went alone, and while it was nice to see The Actual Work it didn't quite have the WOW factor, for some reason. I'm very glad I went and I have a much broader sense of his life and work but I was reminded of watching that documentary about Jean-Michel Basquiat, Haring's contemporary and friend in the New York art scene of that period, and my feeling that while I really like their art, I probably would have disliked them as people. Which is on me, of course, but there it is.
I messaged Fiona to confirm she probably didn't need to get a ticket and she said she was watching an "amusing video on invisibility". It's not by Hito Steyerl it is, I asked? On joining her later it turned out it was.
Hito Steyerl is the author of the absurdly titled book I got for my birthday this week and I'd found a copy of her film How Not To Be Seen on the YouTube and had downloaded a copy and put it on our media server computer in the living room the night before. And now Fiona had stumbled across it at Tate and totally loved it. How awesome.
---
By this stage we were pretty much Arted Out so after a cuppa in the cafe we walked back to the station, pausing to buy some socks and pants because I need to do my biannual trade-up and haven't made it into town for months. On the way home I read the second chapter in Steyerl's book, How To Kill People: A Problem Of Design which was amazing. I want to make something as good as that essay.
Thanks, Liverpool. You've really cracked that whole Art thing. Will visit again.