With some trepidation I watched the first episode of season two of The Handmaids Tale the other night. The first season had been very good but I'd heard the next was a bit all-out brutal horrorshow and, oddly enough, I didn't find myself needing that of an evening.
That first episode is pretty brutal and presumably sets the tone for some outright misery. Usually I'm OK with that, but I'm wondering to what end this is all for. The first season mirrored the book and therefore had a coherent arc. There was a point. This next wave is, what, world building? Where's it going?
Obviously that will become clear over time, but there was something about the presentation that slightly unnerved me. It was quite beautiful.
There's a whole thing in film theory (I believe - this is definitely not my area) about the perils of presenting horrifying scenes that you want the viewer to engage with but in doing so make the horrifying thing exciting and alluring. Film, like all visual art, gets its power by showing an abstracted, unreal or hyperreal version of the world using tropes and styles that can detach us as much as involve us. Or something. Maybe an example will help.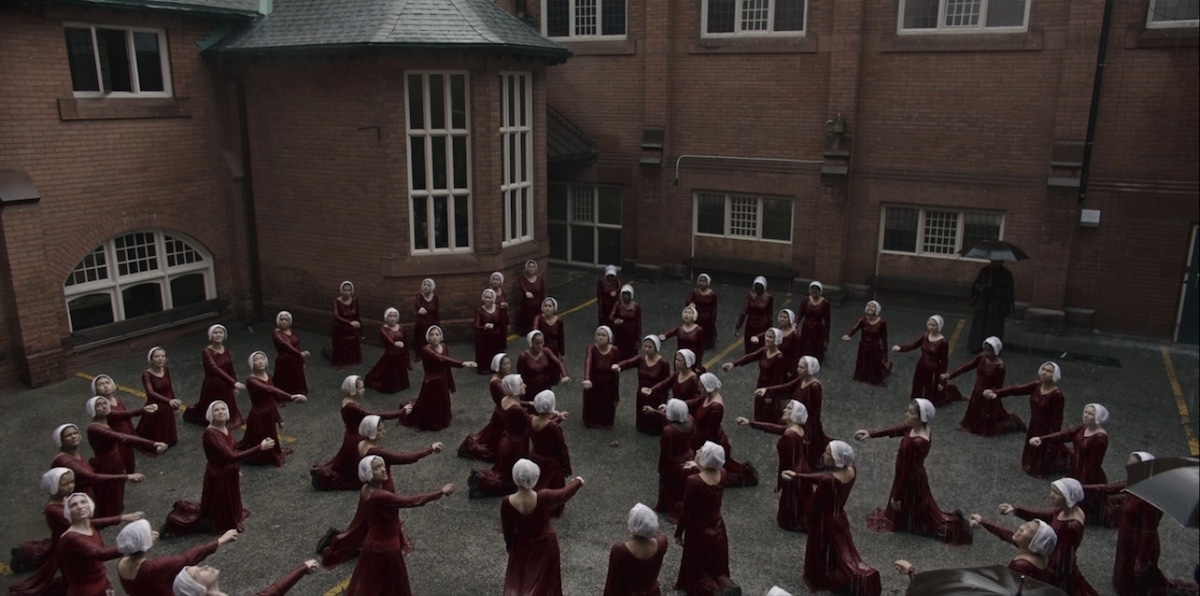 In this first episode of Handmaids season 2 the women are forced to stand in a courtyard in the rain holding a rock at arms length as an ongoing punishment for the denouement of season 1. It's basically a torture scene, but it's filmed beautifully. The women are perfectly arranged in a circle and frequently filmed from above, their bright red and white costumes contrasting with the dark bricks.
It is a visually beautiful scene, perfectly staged, cleanly shot. Prior to this was a flashback to the pre-fascist days which is all soft lights and handheld cameras. A contrast is being made, but I'm uneasy about how gorgeous the nightmare looks. How it draws me in. Maybe that's the point? I'm not sure.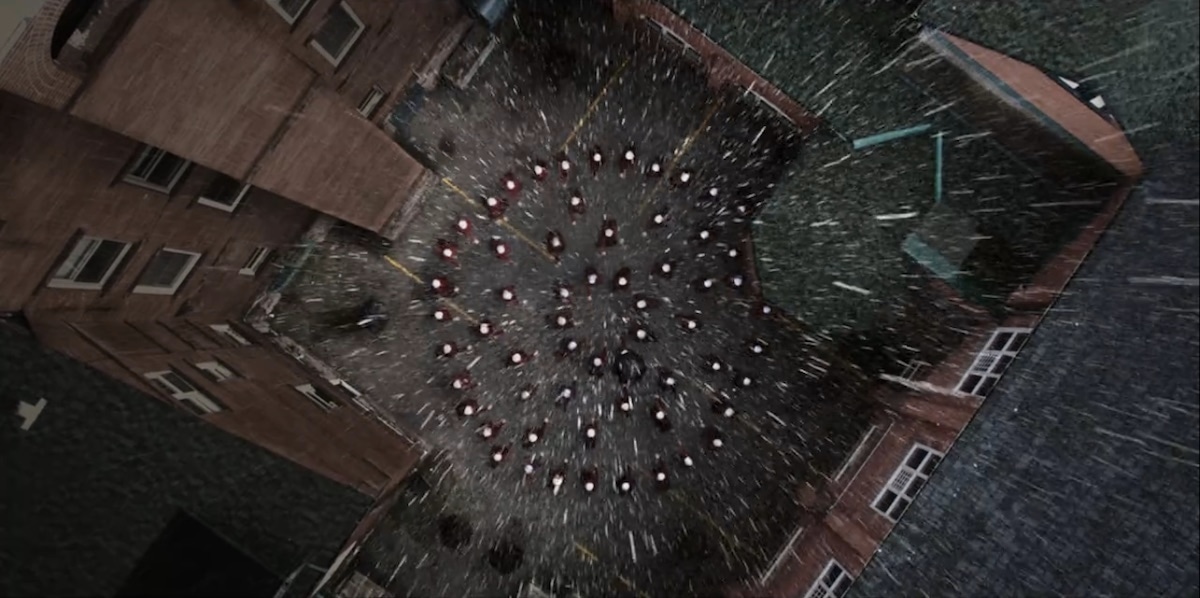 I filed all that away in my mind, but then we watched I, Tonya last night, a biopic about ice skater Tonya Harding, which was excellent in many many ways. I particularly liked how the tone threw me off guard. The trailer sets up a light-hearted comic romp about white-trash idiots and the film itself pretty much delivers that sort of film, except it doesn't because this is a story about an abused woman, emotionally by her mother and physically by her husband, ultimately punished by society for something she (probably) didn't do. I'm sitting there thinking, am I supposed to be laughing at this? It's been set up as a funny, there are some genuinely funny bits, but this story is not funny at all. It's a genuine tragedy.
I think I, Tonya plays a bait and switch, promising you a Goodfellas or Logan Lucky and then betraying that with something much darker. The Founder did a similar thing with Michael Keaton's character who you initially root for and by the end feel terrible for ever liking. It's a subtle and tricky thing, to subvert the viewer's experience like that, and it's all the more powerful when it works.
Handmaids doesn't feel like it's doing anything subtle here. It seems to be simply saying "This world is awful. Look how awful it is. Look at it." But to make sure we look they make this awful world look beautiful even when it's supposed to be ugly and brutal. Especially when it's ugly and brutal. And I'm not sure that works in the way they intended.