This is also sent out via my newsletter.
New Art
I completed Optical Array last week, an installation for the Stellar group show commissioned by Lumen from members of Black Hole Club. The show began last Friday and is open this Thursday 12-5pm and Friday 12 - late at Vivid Projects. That last day is also Digbeth First Friday so you can make a night of it.
The work hangs 144 lenses in the way of a projection of deep space images, lightly animated by a fan. It took bloody ages to make but is quite simple really. Like all new work I didn't know if it would be any good until it was finished, and due to a mad-busy week I didn't finish it until 10 minutes before the show opened, so it was quite a relief when it turned out to be quite good indeed. Phew!
Maybe the definition of a good piece of art is when it transcends the sum of its parts. This could have just been "a bunch of stuff hanging in front of some space pics" but somehow it became more than that. Not unlike how people come out Jenny and my absurdly simple camera obscura grinning their tits off. Lenses really are powerful things.
There's a video of it, if you can't make it in person. And having spent sooo long making the thing I'd love to use it again, should you be running an event that could benefit from a lens array. Hit me up.
---
I occasionally collect DuckRabbits. This one is particularly cute.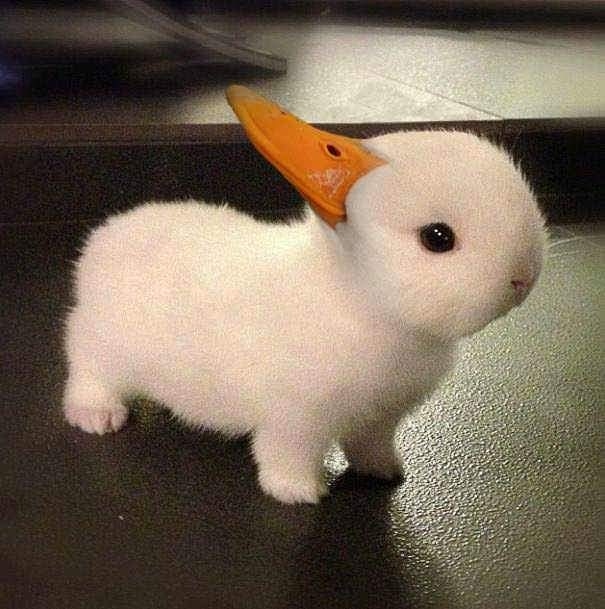 ---
Other stuff coming up this month
---
Fiona News
Talking Data Privacy in a Most-Observed UK City - My darlingoodwife is part of the Mozilla Global Sprint to develop projects promoting a healthy internet. Here she talks about Observed.City, her newsletter about data privacy in Birmingham.
Fi has also started helping local businesses get their heads around the GDPR, by dint of probably being the only person in Stirchley who's made a concerted effort to read up and understand it.
---
Quote of the moment
"For the master's tools will never dismantle the master's house. They may allow us temporarily to beat him at his own game, but they will never enable us to bring about genuine change."
Audre Lorde, 1979
This short quote crystallised my thinking about the often troublesome origins of the technology we attempt to use for some-value-of-good and hit me like a sledgehammer. It's why I was so invested in Flusser's philosophy of photography which isn't really about photography, but about how the social and economic systems author the machines we use to create art about the world, and therefore author the art more than we do.
It also shines a floodlight on the failure of corporate social media to enable any form of meaningful long-term social change beyond that which enriches its creators and owners.
It makes me want to burn stuff down, and that's always a nice feeling.
---
Linkylinks
Meanwhile, in Right-Wing Populism...
Enoch Powell's "Rivers of Blood" Speech at 50 - This got a lot of noise of late with very little light, so it's handy to have something of an outsider perspective from The Atlantic on this seemingly clear-cut, but on closer inspection annoyingly slippery, moment in our history that refuses to be brushed away.

How American Racism Influenced Hitler - The print title for this piece, The Hitler Vortex, is more accurate as it spends 4,000 words on other fascinating things before getting to the American influence, looking at how our collective understanding of how the Holocaust came to happen has changed over the years, usually to avoid difficult questions about the culpability of the victors. So much easier to say it was all Hitler's fault. But if you're keen to get to the American influence search for "As for Hitler and America" for a litany of ways the Nazis looked approvingly at US institutional racism for inspiration.

The dark history of 'America first' - A brief history of that rather loaded dog-whistle of a term, along with its bedfellows "100% American" and "Nordic" through the 20th century.
---
Good People
Jay Owens wrote that marvellous Age of Post-Authenticity article last month and her Twitter has proven to be very relevant to my interests as well as thoroughly enjoyable to read. If we all tweeted like this Twitter might actually be useful.
Nicolas Nova is a Swiss digital arts futurist type who I was quite taken with when I saw him speak once. His newsletter is of the "things that have caught my attention recently" variety in nice bitesized chunks. Notable also because it's bilingual, translated from his native French.
Joseph DeLappe did a talk about his work in Birmingham this week and while I couldn't make it, Fiona did and her report made it feel like we were separated at birth - similar attitudes and methods to work, only he's a good decade ahead of me, which makes him perfect stalking material, sorry, mentor material. I particularly like this and this. Oh, and this
---
Hire Me
After a very busy and productive month I've got very little in the diary for May and June and have bills to pay. Please consider exchanging money for the loan of my body and soul so we might mutually benefit. You may find inspiration for doing so via peteashton.com.